We wouldn't be exaggerating if we said that Superdrug is the UK nation's leading beauty and health retailer. And here's why:
900 shops across the United Kingdom and Ireland
online shops in the UK, Denmark, Finland and Sweden with around 8M monthly visits on average
hundreds of health and beauty products online and in shops, including pharmacies with consultation rooms in over 220 shops
Taking into account the brand reach, Superdrug is always trying to keep its customers attached to the brand, and Halloween of 2022 was not an exception. Superdrug developed a huge campaign with tons of promotional materials: videos, social media content, photos, etc.
But where is the fun part to keep the rapidly changing customer's mood close to the UK's leading beauty brand?
Making it work with custom Instagram story filters
As the company's main goal was to deliver a consistent, multi-level engagement – from small static ads to unique online experiences everyone can try on – Motiohead united with Superdrug to create a series of Instagram custom filters, available for everyone free of charge in any place in the world. Based on the promotional materials they'd got (videos, photos of models, makeup prototypes), we had to make masks that would precisely represent Superdrug's campaign while pushing the entertaining approach to another level.
We immediately liked the idea as AR filters for Instagram seemed like a perfect solution to keep the Superdrug's customers engaged and entertained on one of the most celebrated autumn holidays globally. Besides, we always wanted to chance our arm in augmented reality, and Instagram filters seemed like a nice opportunity to do so.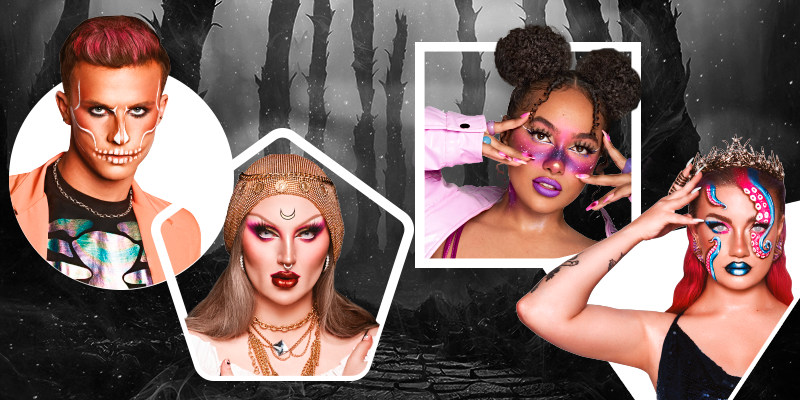 Working on the project
The idea was to precisely recreate several makeups from the upcoming Superdrug's Halloween marketing campaigns, so that their audience would be able to pick which they think is the best. Promo materials were the only thing we had as a reference point and our designers had to recreate the makeups piece by piece. Our team gladly accepted this challenge.
Navigating through the progress
Since we had an obvious deadline – Halloween – and the start of the project took place in mid-August, we worked harder than ever, giving 101% effort for each stage of production.
Taking into account our deadlines and possible risks associated with development (designing custom Instagram filters for events was still something relatively new for Motiohead), we've created a roadmap that would help us to smoothly navigate through the progress while still allowing for a necessary time to evenly test and adjust the final product to what our client really wanted. Here's our step by step roadmap to guide both the client and the team through the project:
Makeup design in AI
Creating face shapes via SparkAR
Transition of the makeups into shapes
Makeup adaptation for different faces
Final polishing and adjusting the filters.
A path of visual content adaptation
First of all, we needed to create the makeup itself. We had videos and photos of models with makeup applied, and our task was to redraw them from real photos. To accomplish this task, we used the Pro Create application on the iPad, as well as partially Photoshop on the computer. To understand the location of the future makeup on the user's face, we used the face grid from the Spark AR program.
After creating the actual makeups, we started developing 3D models of accessories (piercing, crown, and other elements). To create a 3D model and texturing it, we used Blender.
When the work on the models was completed, we moved to the Spark AR program, which was specially created for developing filter masks for Instagram. In the same program, menus, transition and filter change effects were created, music was added.
And testing. Yes, it was the most hilarious part of the process. Just look at our project manager's face with one of the filters!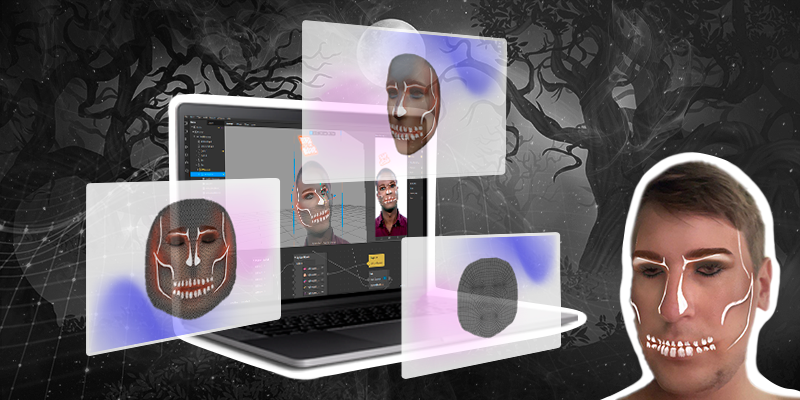 One of the main challenges though was that Instagram has its own limitations of 4MB per filter, which meant we had to do something to optimise images and make them finally go live.
To solve the challenge, we downscaled versions of each illustration to be able to fit five different makeups, logos, openings, and animated backgrounds in 4MB without any quality losses.
Experience
It was a unique experience to create another unique experience (some sort of a positive recursion).
Considering the success of the project and the client's overall satisfaction from the results we've delivered, we decided to use our current project delivery framework as a basis for future AR projects by gradually elaborating it and adjusting to each client's business needs.
Despite the rough deadline, the Motiohead creative team proved to be more than capable of creating Snapchat, TikTok or Instagram AR filters for brands of any complexity. Starting from bare video footage and steadily progressing to well elaborated, gamified masks.
How long did it take to create this filter?
1.5 months without any brakes. But, if we don't take the amendments into account, 95% of the project was ready in only two weeks
How many people have been working on the project?
5 – including our illustrator, two SparkVR specialists, project manager and account manager. 
On a scale from 0 to 100, how satisfied is the customer?
Infinity
What's next?
The filter is now uploaded to the Superdrug Instagram Account with over 1M followers, giving the opportunity to hundreds of thousands of their subscribers all over the world to try fabulous makeup by the Superdrug and feel like a Halloween character.
Is a special occasion coming soon and you need someone to make an AR mask for your brand? Share your ideas or developments through our online customer and we'll do our best to turn it into an immersive digital content your customers will love.